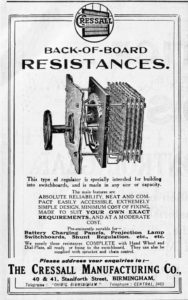 The company was started in 1912 by two Birmingham brothers, initially to manufacture the asbestos resistor nets until then only produced in Germany.
Over the next twenty years the Cressall brothers extended their resistor range to include porcelain and mica elements as well as sterilisers, water heaters and battery chargers.
From 1939 the company, a reserved establishment, made welding resistors, radio nets and degaussing equipment to protect shipping from mines.
A naval officer on a visit to the factory maintained that, for a time, the defence of Gibraltar had been entirely dependent on a piece of Cressall wiring.
During the fifties Cressall introduced wire wound rotary rheostats and vitreous enamel resistors. In 1955 they merged with rivals Expamet who had developed expanded metal resistors and the combined company now had Britain's widest range of resistors.
In 1965 the company changed its name to Cressall Printed Circuits and diversified into medical magnetic screening, printed circuits and electronics with an American partner.