FRESH WATER
Most ships have a chilled water system, which circulates cool water throughout the vessel, used for both air conditioning and equipment cooling. It is usually straightforward to incorporate resistors of the type shown into these circuits.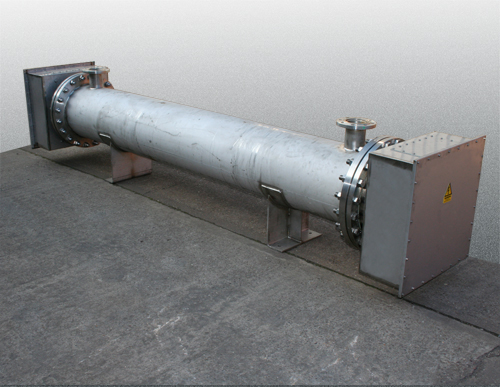 This design of our water cooled resistors range utilises 316 grade stainless steel vessels, cable box and fixings as standard and has the following features:
Continuous power: 100kW – 1800kW
Vessel size: 1700–3700mm long
Vessel bore: 200-500mm dia.
Voltage rating: 800V DC
Elements: Mineral insulated with Incoloy sheath, test voltage 2.5kV.
Operating pressure: 3 bar, test pressure 10 bar. Cable box: IP56 complete with automatic anti-condensation heater and terminals for one capillary thermostat and one PT100 temperature sensor
Sea water
Construction and ratings as our fresh water designs but with titanium-sheathed elements in higher-grade stainless steel vessels, suitable for continuous duty in hot sea water.