INDUSTRY: THE PLANET'S CLOSEST FRIEND OR MOST SWORN ENEMY?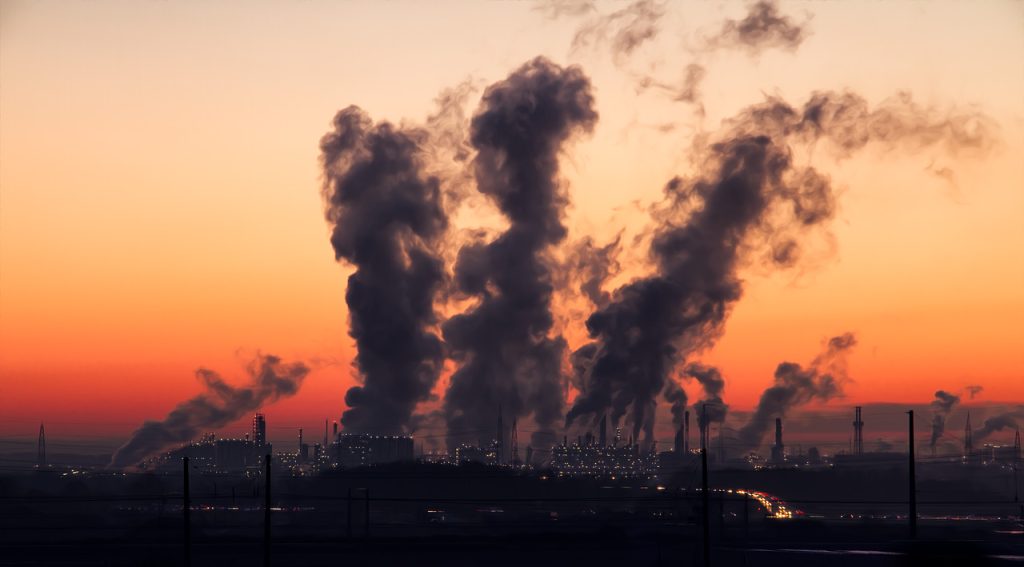 REALISING THE GOVERNMENT'S BUILD BACK BETTER PLAN
Britain — the birthplace of the Industrial Revolution, the golden age of innovation that transformed society. However, the fossil fuels that powered the revolution have left a detrimental mark on our world, which we are fighting to change with Net Zero. Is the industry that triggered the climate crisis in the first place part of its solution?
The Industrial Revolution transformed the world, igniting technological development that continues to this day. But it has also had disastrous consequences for the planet, with carbon emissions from fossil fuel use triggering the climate crisis.
However, the necessity of industry is well recognised. The UK's manufacturing and refining sectors contribute £180 billion to the economy and provide millions of jobs, both directly and indirectly across the entire manufacturing value chain, presenting a dilemma — is industry a help or a hindrance to the planet's future?
INDUSTRY'S CARBON CONTRIBUTIONS
The Industrial Revolution triggered a rise in the Earth's core temperature that is yet to stabilise. Since 2018, the Intergovernmental Panel on Climate Change (IPCC) has been warning us that a temperature increase of more than 1.5 degrees Celsius (°C) above pre-industrial levels will result in irreparable damage from extreme weather, failed harvests and species extinction.
The Government's Net Zero strategy provides a roadmap to successfully combatting the climate crisis. Published in October 2021, Build Back Better gives details on how the UK will achieve Net Zero carbon emissions by 2050. Industry is at the heart of this challenge, both as a carbon contributor and emission eliminator.
Industry is a major source of carbon emissions, producing 15 per cent of the UK's total. The Government estimates that emissions associated with industry need to drop by as much as 96 per cent by 2050 to achieve Net Zero status — demonstrating the magnitude of its current contribution to the climate crisis.
RESOLVING INDUSTRY'S PROBLEM
Industry's damage to the planet has incrementally decreased over the last couple of decades. However, to keep momentum, further innovation is necessary to reach Net Zero in this huge carbon-emitting sector, both directly and indirectly.
According to the International Energy Agency (IEA), industry's indirect carbon contribution through its colossal energy consumption accounts for 40 per cent of the globe's total. The move to a decarbonised renewable power supply will help eliminate this.
However, the situation is more severe with direct CO2 industrial emissions. Since some crucial processes don't currently have a carbon-free alternative, emission elimination is not always possible — reduction is as far as it can go. CCS is key to aligning industry with Net Zero, ensuring essential carbon-emitting processes continue without the climate consequences.
INDUSTRY'S INNOVATIVE INPUT
Despite being responsible for a large proportion of emissions and acting as a catalyst for the birth of the climate crisis, industry is also the planet's saving grace.
The Government's Net Zero strategy is striving for a fully decarbonised, reliable power supply that integrates both renewable sources, like solar and wind, and dispatchable net-zero sources like natural gas with carbon capture and storage (CCS). In transportation, the goal is to ensure all cars are zero-emission capable by 2035, end the sale of petrol and diesel heavy goods vehicles (HGVs) by 2040 and achieve a net-zero rail network by 2050.
Reaching these challenging targets involves key manufacturers developing innovative products and services to enable Net Zero. For example, at Cressall Resistors, we manufacture a range of resistors crucial to reaching Net Zero. For the automotive market, the EV2 dynamic braking resistor facilitates regenerative braking in electric vehicles, helping to increase vehicle range and improve the viability of a fully electric national fleet at an unrivalled weight and size to power ratio.
When it comes to decarbonising the nation's power supply, pre-insertion resistors are used to prevent overvoltages caused by renewable energy's variable input, while load banks safeguard all power systems by proving their power generation capability. Resistors are necessary to protect every electrical system and make Net Zero a realistic goal.
The Industrial Revolution is by and large to blame for the catastrophic levels of CO2 that have been emitted into our atmosphere since the eighteenth century. But it's also a crucial part of the solution. Not only through eliminating its own carbon footprint, but also by developing the components to decarbonise other sectors.
With the full Net Zero strategy revealed, now's the time for industry to step up and take responsibility for preventing more damage to the planet and shift its position from the planet's most sworn enemy to its closest friend.
CRE475